Britain's heaviest man has revealed how doctors contemplated sending him to a zoo, when he had a suspected blood clot and feared for his life.
Jason Holton, who tips the scales at 47st or 298kg, was told by doctors that the only machine capable of holding his massive frame while his heart and lungs were examined was one used by vets on animals such as a zebra.
Jason, 33, says his body swelled up last January as he battled for his life after doctors suspected that he had a blood clot and his internal organs were about to fail.
Jason said to Sun UK: "I was close to death and convinced I was going to die. I was swelling up like the Nutty Professor and it was scary.
"I started to think I was going to explode. There were big bulges all over me.
"When the ambulance crew came, I refused to go with them at first because I wanted to die.
"But then I thought about my family and how upset they would be, and I decided to try to get better.
"Doctors suspected that I had a blood clot, but they couldn't figure out where, and they were concerned that my heart had been damaged and I would need a pacemaker.
"My mum was convinced I'd suffered a mini heart attack and my doctor looked shocked when he saw the state of me – he was amazed I was still alive.
"At one point they were talking about taking me to London Zoo to have my heart and lungs examined with equipment they normally use on large animals like zebras.
'I can't remember the last time I walked'
"They said that was the only way they could properly X-ray my heart.
"My doctor was convinced this was the best thing for me, but they decided against it in the end.
"I'm not sure why – I think it was because of the cost."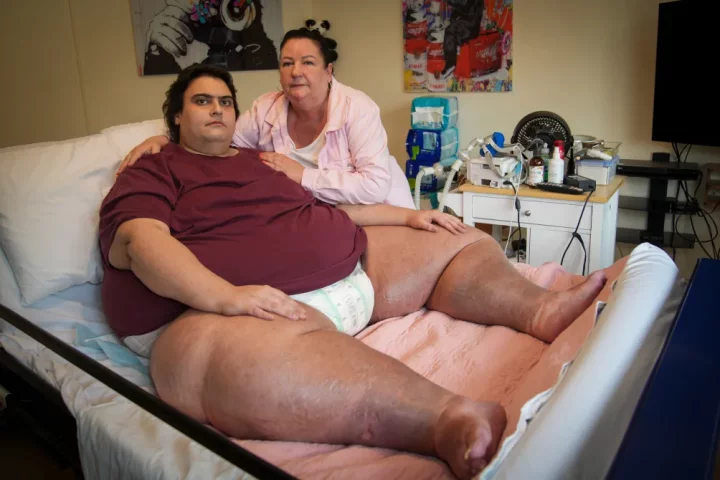 Jason says his condition later stabilised following treatment at East Surrey Hospital in Redhill.
He says he cries himself to sleep every night because he is so depressed about his weight and has not left the bedroom of his specially adapted, £400,000 bungalow in a Hampshire village for six months because his legs are no longer strong enough to support him.
He has to take a huge amount of medication to keep his heart pumping and blood pressure stable, and to combat lymphoedema in his groin and legs, a chronic condition that causes water retention and swelling.
Doctors have warned he is unlikely to live past the age of 40.
He is now hoping his life will be saved by the revolutionary weight-loss injection Wegovy, the brand name for semaglutide, which has just been approved for use on the NHS.
Stuck at home, his only company is his mum Leisa, 53.
Jason was three years old when his father Sultan Nemer died in a car accident aged 21.
Fighting back tears, he said: "Jabs are the only option left for me so I have to give them a go. I can't stay in this bed for ever.
"I can't remember the last time I walked, it's terrible."