Carlo Ancelotti Names Player Who Rescued His Job at the Bernabeu, and It's Not Ronaldo
Real Madrid manager Carlo Ancelotti acknowledges that without Sergio Ramos, he might have lost his job at Real Madrid.
Ahead of the team's upcoming match against Sevilla, Ancelotti spoke highly of his former captain and reminisced about the 2014 Champions League final, where Real Madrid triumphed 4-1 against Atletico Madrid in extra time.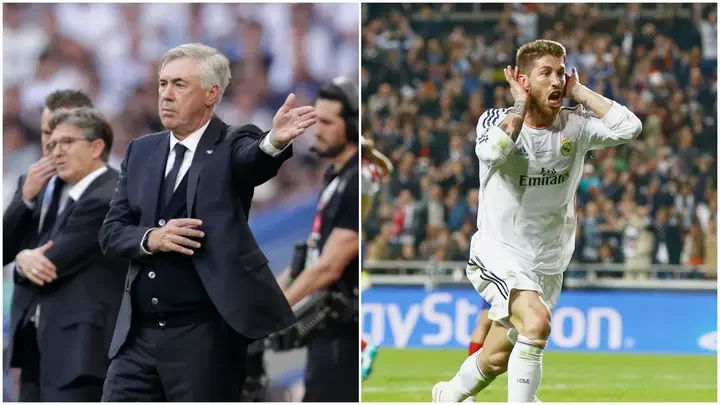 How Ramos saved Ancelotti's Madrid job
During Ancelotti's first stint with Los Blancos, Ramos' crucial header in the closing moments of the second half enabled Real Madrid to secure their 10th Champions League title, famously known as La Decima, after extra time, per Bleacher Report
Ramos' decisive header marked the realization of Madrid's much-anticipated 10th crown, bringing an end to the club's 12-year wait for European triumph and consequently securing the esteemed Italian from potential job loss.
Fast forward, Ancelotti's recent return to the Santiago Bernabeu club after his departure in 2015 has seen him lead the team to another league title, a further Champions League victory, and a collection of other notable trophies.
Ahead of his reunion with Ramos when Madrid take on the Rojiblancos, the 64-year-old said in a news conference on Friday, as cited by Daily Post:
"I'd love to see [Ramos] and say hello. I have affection for all the players I've had, but above all, I have special affection for him.
He continued: "If I'm here today, it's because of Sergio Ramos. If he hadn't scored the goal in the [Champions League] final, I probably wouldn't be here.
"For that, and for everything he did for this club, everybody has a lot of affection for him. He'll play well, for sure. Let's hope he doesn't score, but if he does, he can [celebrate] however he wants!"