A man's startling WhatsApp chat leak exposing a married Nigerian woman's infidelity has sent shockwaves through social media.

The incident unfolded when the influencer @Wizarab10, known for his controversial posts and challenges, encouraged his followers to send him stories about cheating married women.

In response, he received a chat conversation that was both raunchy and revealing.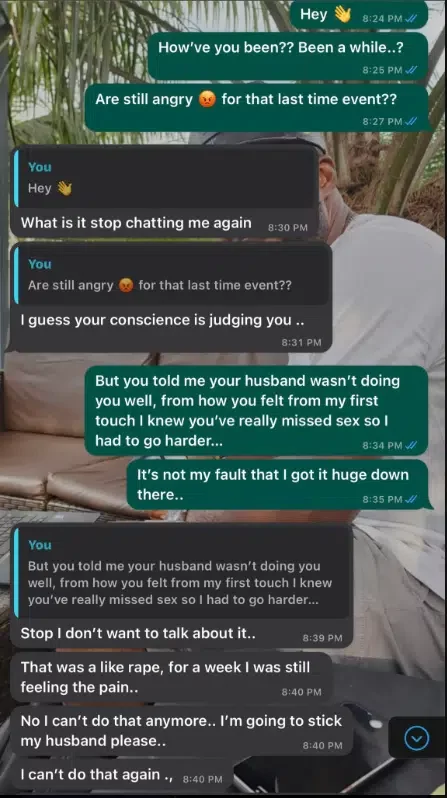 In the leaked chat, the identity of the woman involved remains undisclosed.
She was approached by a young man who expressed his confusion over her sudden disappearance.
The woman explained that her decision to ghost him was a result of his rough behavior during their previous intimate encounter.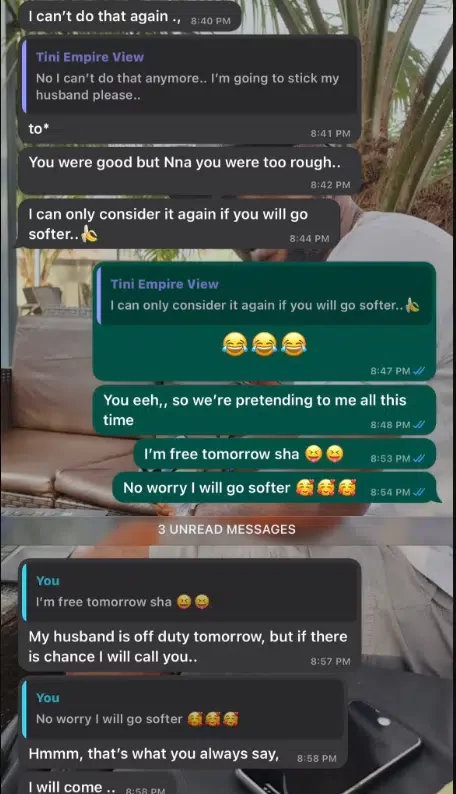 She asserted that she would prefer to remain faithful to her husband.
However, the young man seemed undeterred by her initial response. He promised to be gentler in their subsequent encounters, and the two parties agreed to meet again.
This exchange, made public by @Wizarab10, has left many infuriated and outraged.
The leaked chat has caused a public outcry, with many social media users expressing their shock and anger.
Netizens Reactions…
@nomani_jay said: "But how do guys have the guts to knack a married woman? I'm not talking of instances where the guy has no clue that the woman he's knacking is married. I'm talking about those guys doing it willfully.
"That's a line no man should cross."
@NwaAdaIgbo1 said; "Okwe agbaala. "I only pity her husband because if he doesn't leave that marriage, he will dimjnish in his career and spiritually."
@don_marrtyynz said; "Sleeping with a married woman is an all time low shaa. "That's the line I can never cross. "Tho sometimes these women can be secretive."
@michadofamous said; "Una dey sleep with people's wives smh."
"Where una dey see them sha."
@oma2k2 said; "Things the happen o, if more people should open up ehhhh, nah only shout u go dey shout o."
@Imohdyn1 said; "You sure say i go marry for this life?! Be like horror movie….omor."
@peris_ja said; "Things they occur for this life. Oluwa, blow the trumpet."
See below;